Calibrate has conducted a quick poll of our clients and friends, to learn whether law firms are including their business services professionals in their internal programming:  specifically alumni programs and affinity groups. Here are the results:
---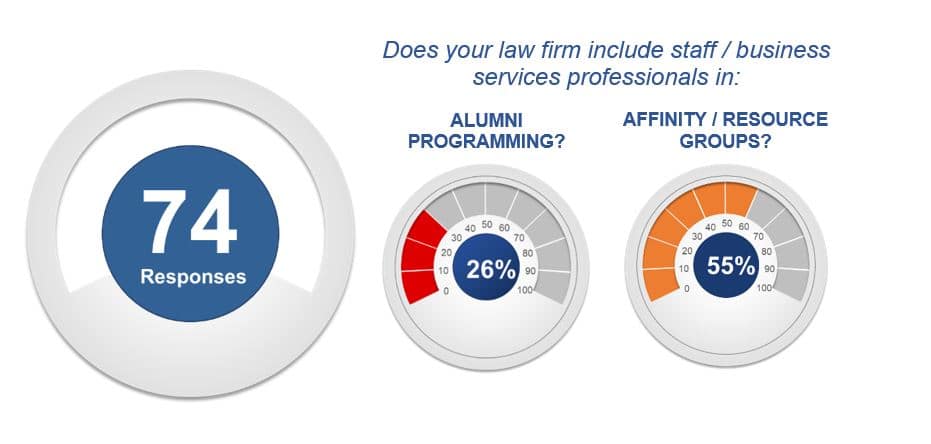 Our Perspective
While we're not surprised at these results, they are an unfortunate reflection of  law firm culture and attitudes to business services professionals.  "Non-lawyer thinking" is still alive and well in our industry, and this needs to change.  For more of Calibrate's insights on this issue, see our article Talent is your Biggest Asset—All of the Talent in The American Lawyer.
READ THE ARTICLE
Verbatim Comments
We invited poll recipients to include comments with their responses.  A representative sampling is below:
My firm includes staff/professionals in diversity programs, but not within the women's initiative.
We have separate affinity groups for staff and attorneys.
Currently, the firm only has a women's and an LGBTQ affinity group–the former exclusively for lawyers and the latter open to business personnel as well as lawyers. We are launching additional affinity groups within the next six weeks, and the recommendation is to have them open to all members of the firm instead of only lawyers. In addition, the firm holds an annual diversity and inclusion retreat, but that is only open to lawyers.
The firm is offering more virtual programs as of late (educational versus conversational) and including all staff.
The firm has a very hierarchical mentality. Management lives in a bubble.
I have tried on many occasions to be included on the Diversity & Inclusion committee.
Our affinity groups have typically been for lawyers only. Last year they opened them up to staff and people attended the events. This year I started the first affinity group for black professionals on the business side. Our needs are a bit different than the lawyers, but the two groups are working closely together.
We don't include non-legal staff in alumni programs. I say non-legal because we have a handful of partners/lawyers in KM, professional development, etc. and senior people in those roles would be included.
We do track staff alumni in CRM but do not include them in our alumni communications. Everything is currently focused only on attorney alumni.
We do not include staff in our resource groups, but have raised the issue with HR and suggested a parallel program for staff.
We are a small firm and we do have a Women's group – but staff is not included. The only ones who have ever talked about that changing…aren't attorneys.
Related Calibrate Insights
Calibrate is pleased to provide the results of the 2021 Calibrate ID research program, which benchmarks Diversity, Equity and Inclusion…